Want to be a nanny? Discover Charly Cares
Want to be a nanny and looking for fun families? Then Charly Cares is perfect for you!
At Charly Cares, you won't just find flexible babysitting work; many families on our platform are also looking for a structural babysitter - a nanny! Scroll through the nanny work on offer in our app and choose yourself where you work.
Set your own hourly rate

Choose the families you work for

Work where you make a difference
The benefits of working as a nanny via Charly Cares
Want to babysit for the same family on a fixed basis? Great! Via our app, you can get in touch with families near you who are looking for a nanny. Everything is arranged through our app: from making appointments to payments, accurate to the minute. That is how we facilitate everything, so that you can focus on what you love: working as a nanny.
I want to be a nanny!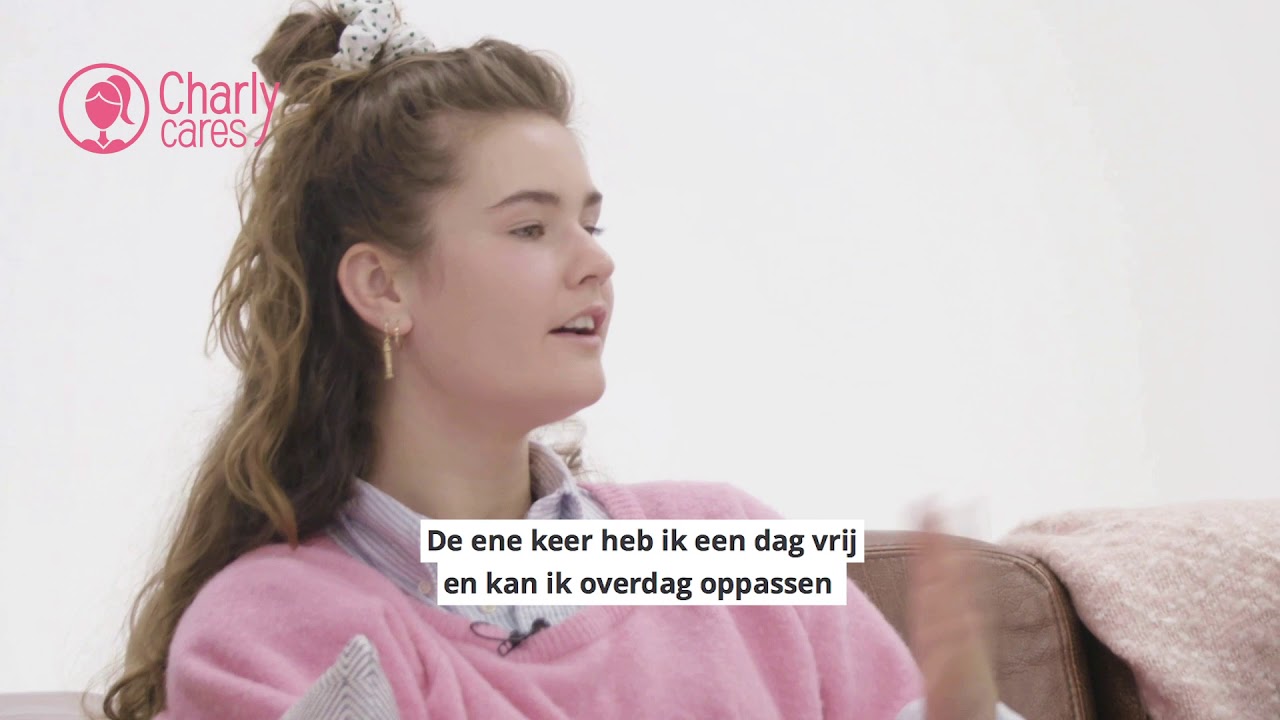 We call our nannies and babysitters Angels, because that's what they truly are in our eyes. In this video, discover what our Angels think about working via Charly Cares.
I want to be a nanny!
What does a day in the life of a nanny look like?
Before you get started, you'll probably want to know what a job as a nanny looks like. You'll babysit for the same family for multiple days a week. Younger children, for example, you'll watch the whole day, whi Voordat je aan de slag gaat, wil je vast weten hoe een baan als nanny eruit ziet. Je past meerdere dagen in de week bij hetzelfde gezin op. Bij jonge kinderen pas je bijvoorbeeld de hele dag op, bij kinderen die iets ouder zijn is dit naschools. Je maakt er een leuke dag van en levert een belangrijke bijdrage aan de ontwikkeling van kinderen. Niet zomaar een nanny baan dus!
I want to become a nanny!
What do you need to become a nanny?
Everyone is welcome to become a nanny at Charly Cares. We ask you to supply 2 references from families for whom you've babysat before or where you worked as a nanny or au pair. You also need to be at least 16 years old. Do you have everything you need? Then you can start working as a nanny at Charly Cares.
I want to be a nanny!
The registration process for becoming a nanny
Sign up today and schedule your interview

During the interview, we will get to know each other better and tell you more about Charly Cares.
Complete your profile

Supply two references and upload a picture of yourself to complete your profile.
Everything filled in?

You can start working as a nanny. Welcome to Charly Cares!
Meet nanny Adina
"When I babysit for the same family for a longer period of time, I really enjoy watching the children grow and develop. I have a family with twins that I have been babysitting since they were 3 months olds. They are now 2 years and 3 months old. It is so special to see how they now walk and even run. When those two see me at the door, they'll chant 'Adina Adina.. Adina is here!' in unison. That is such a great feeling."
I want to be a nanny!
Frequently asked questions about nanny work via Charly Cares
Where is Charly Cares available?
Charly Cares isn active in 9 cities and neighbourhood. Below you will find an extensive overview of these cities and places in which Charly Cares is active.
Amsterdam
Diemen, Duivendrecht, Muiden, Ouderkerk aan de Amstel en Weesp
Amstelveen

Den Haag
Rijswijk, Scheveningen, Voorburg, Wassenaar en Wateringen
Eindhoven
Geldrop, Helmond, Nuenen en Veldhoven
't Gooi
Blaricum, Bussum, Eemnes, Hilversum, Huizen, 's-Graveland, Laren en Naarden
Haarlem
Aerdenhout, Bennebroek, Bentveld, Bloemendaal, Heemstede, Hoofddorp, Overveen, Santpoort-Noord, Santpoort-Zuid, Spaarndam, Velserbroek en Zandvoort
Leiden
Leiderdorp, Leidschendam, Oegstgeest, Voorschoten
Rotterdam
Capelle aan den IJssel
Utrecht
De Bilt, De Meern en Vleuten
Coming soon: Charly Cares will open soon in these cities. Do you live here and want to babysit via Charly Cares? Sign up in advance!
Almere

Delft
Breda
Groningen

Nijmegen
Stay tuned! More cities are coming soon. So keep an eye on our website.
What will my interview at Charly Cares look like?
During the interview, we discuss your background, character, what type of babysitter you are, and, of course, your babysitting experience. We will also explain our app to you. The interview will last a maximum of 30 minutes. See you soon!
How much will I earn as a Babysitting Angel?
As a Babysitting Angel, you can choose your own hourly rate. The app shows what other people of your age in your area have chosen. You can set two hourly rates: for day and evening services. You can always have a look at your hourly rate in the app under 'Profile' and change it whenever you want to.