The best part-time job to combine with your studies? Find it at Charly Cares!
Do you love children and do you want to be able to choose how much you earn and when you work? Then babysitting via Charly Cares is the perfect part-time job for you!
Via the Charly Cares app, you'll be matched quickly with the best families near you. You decide where you babysit and how much you earn. How great is that?
So, don't wait any longer and sign up today!
The benefits of babysitting via Charly Cares
Flexible hours: Perfect to combine with your studies
Bond with the kids you babysit
One thing is certain: you'll always have a fun day!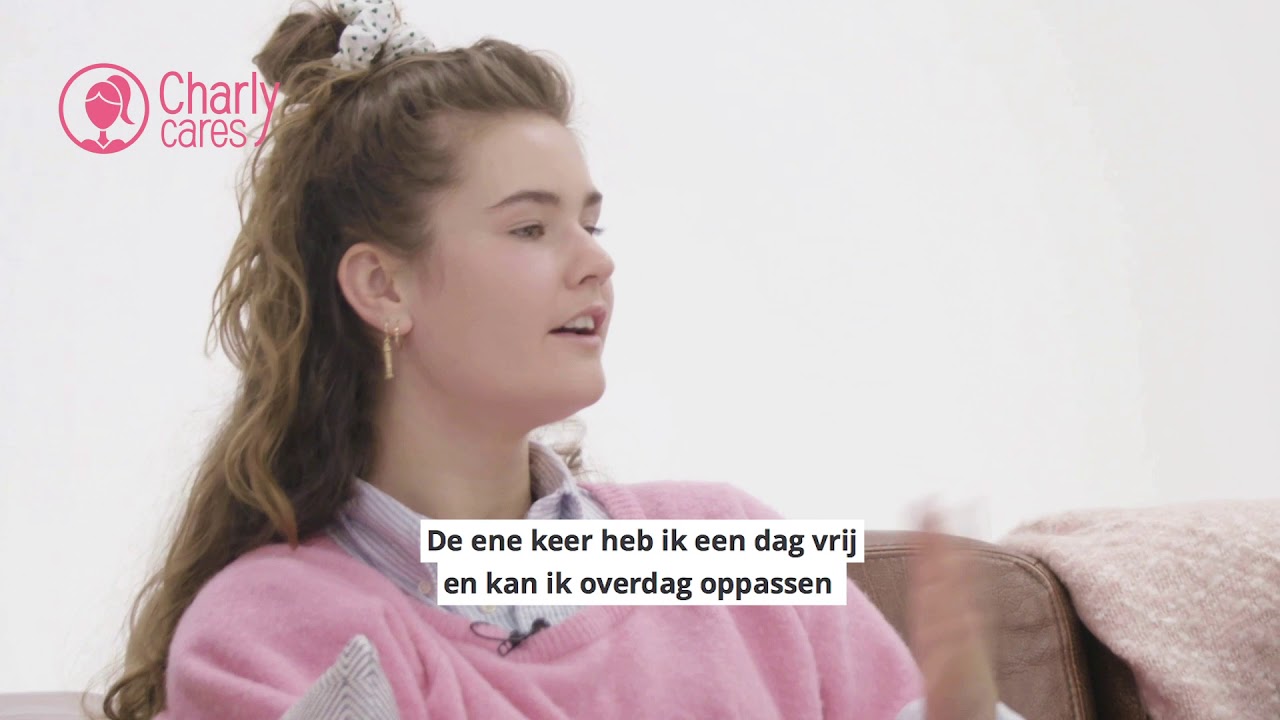 Meet the other Babysitting Angels
Over 7.500 Babysitting Angels babysit via Charly Cares. In this video, they'll tell you more about their experiences. Check it out!
I want to babysit
This is what you'll need!
Before you can start babysitting, we would first love to meet your for a short online interview. Our Angel Recruiter would love to meet you. After all, parents leave their most precious possession in your care. You will also need the following:
References from families for whom you've babysat before
Relevant (babysitting) experience with children
A caring and social character
Everyone is welcome, but you are at least 15 years old
I want to babysit
How exactly does the registration process work?
Download the Charly Cares app and sign up

Complete your profile (including references) and schedules your interview.
Let's meet!

During the online interview, we will get to know you better. The interview takes about half an hour.
Get ready, go!

After the interview, we'll check your references. Everything in order? Then you can get started straight away. Happy babysitting!
Meet Babysitting Angel Florine
"I think the best thing about babysitting via Charly Cares is the flexibility it offers. I'm currently quite busy with my studies, but because I mostly babysit at night, I have plenty of time during the day to study."
I want to babysit
How much will you earn with babysitting?
It's completely up to you! You choose how much you want to earn per hour, as well as which babysitting services to take on. Babysitting during the day is often more intense when it comes to tasks and responsibilities, meaning you can set your hourly rate higher. But babysitting at night is also great: while the children are in bed, you'll have time to study.
Babysitting Angel Isabelle on her hourly rate:
"I really like that I can choose my own hourly rate, so that I can keep control over how much I want to ask. I raise my rate every year by about €0,50-1 euro, so that it increases along with my age and experience."
I want to babysit
​ Looking for a new part-time job to combine with your studies? Start babysitting via Charly Cares too!
Yes, follow in the footsteps of 7.500 other Angels and start babysitting via Charly Cares! Download the Charly Cares app now and sign up. See you soon <3!
I want to babysit
Frequently asked questions about babysitting via Charly Cares
What will my interview at Charly Cares look like?
During the interview, we discuss your background, character, what type of babysitter you are, and, of course, your babysitting experience. We will also explain our app to you. The interview will last a maximum of 30 minutes. See you soon!
Does it matter how often I am available?
You decide yourself when you work and how many days or nights you are available.

Because you are in charge of deciding when you work, it is important to keep your calendar up to date, so that you don't receive booking requests for days or times that you are not available. You can block your Angel calendar for a longer period too, in case you are planning on going on vacation or for your exam period.
How much will I earn as a Babysitting Angel?
As a Babysitting Angel, you can choose your own hourly rate. The app shows what other people of your age in your area have chosen. You can set two hourly rates: for day and evening services. You can always have a look at your hourly rate in the app under 'Profile' and change it whenever you want to.
How will parents pay me after a babysitting service?
A timer will automatically start running at the scheduled start time of the booking. Parents can stop the timer when they come home. After the timer has been stopped, the payment will be automatically processed and you will be paid in 4 work days. You will receive your earnings in the bank account connected to your profile.